As many of you might know from my Instagram I have an unhealthy obession with Melissa Landers books.
It all started with Alienated…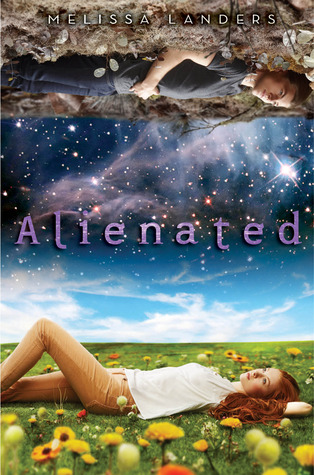 Synopsis:
Two years ago, the aliens made contact. Now Cara Sweeney is going to be sharing a bathroom with one of them.
Handpicked to host the first-ever L'eihr exchange student, Cara thinks her future is set. Not only does she get a free ride to her dream college, she'll have inside information about the mysterious L'eihrs that every journalist would kill for. Cara's blog following is about to skyrocket.
Still, Cara isn't sure what to think when she meets Aelyx. Humans and L'eihrs have nearly identical DNA, but cold, infuriatingly brilliant Aelyx couldn't seem more alien. She's certain about one thing, though: no human boy is this good-looking.
But when Cara's classmates get swept up by anti-L'eihr paranoia, Midtown High School suddenly isn't safe anymore. Threatening notes appear in Cara's locker, and a police officer has to escort her and Aelyx to class.
Cara finds support in the last person she expected. She realizes that Aelyx isn't just her only friend; she's fallen hard for him. But Aelyx has been hiding the truth about the purpose of his exchange, and its potentially deadly consequences. Soon Cara will be in for the fight of her life—not just for herself and the boy she loves, but for the future of her planet.
My review from back on Febuary 17th, 2015 when I finished the first book:
I just finished power reading and HOLY SACRED MOTHER. It was so faced paced and I couldn't put it down. So many twists. I've never read a book like this before. So unique. My advice? Get in your car and go buy this book NOW.
And then of course I had to get Invaded…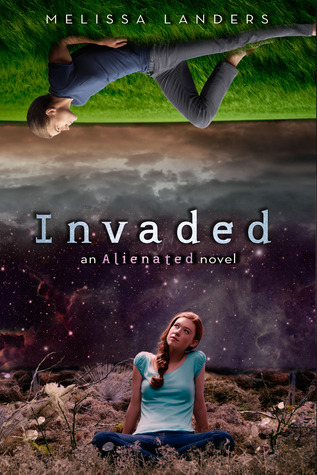 !!!!!!!!!!!DO NOT READ SYNOPSIS OF INVADED IF YOU HAVE NOT READ ALIENATED. I DON'T WANT TO SPOIL ANYTHING FOR YOU!!!!!!!!!!!
Synopsis in..
3…
2…
1…
Synopsis:
The romantic sequel to Alienated takes long-distance relationships to a new level as Cara and Aelyx long for each other from opposite ends of the universe…until a threat to both their worlds reunites them.
Cara always knew life on planet L'eihr would be an adjustment. With Aelyx, her L'eihr boyfriend, back on Earth, working to mend the broken alliance between their two planets, Cara is left to fend for herself at a new school, surrounded by hostile alien clones. Even the weird dorm pet hates her.
Things look up when Cara is appointed as human representative to a panel preparing for a human colony on L'eihr. A society melding their two cultures is a place where Cara and Aelyx could one day make a life together. But with L'eihr leaders balking at granting even the most basic freedoms, Cara begins to wonder if she could ever be happy on this planet, even with Aelyx by her side.
Meanwhile, on Earth, Aelyx, finds himself thrown into a full-scale PR campaign to improve human-L'eihr relations. Humans don't know that their very survival depends on this alliance: only Aelyx's people have the technology to fix the deadly contamination in the global water supply that human governments are hiding. Yet despite their upper hand, the leaders of his world suddenly seem desperate to get humans on their side, and hardly bat an eye at extremists' multiple attempts on Aelyx's life.
The Way clearly needs humans' help . . . but with what? And what will they ask for in return?
My review on April 2nd, 2015:
I cant even form a coherent thought right now. Holy sacred mother. I cant get enough of Cara and Aelyx. I demand a third book. The final chapters are equal parts heart pounding and heart-wrenching. Full of action and suspense. Melissa Landers yasss girl you did it again.
And then came Until Midnight…a novella.
This is set in between Alienated and Invaded. It is a short story that connect Alienated and Invaded. Did I mention it's FREE?!?!
!!!!!SAME GOES FOR THE NOVELLA. SPOILERS AIN'T COOL AND I DON'T WANT TO SUBJECT YOU TO THE TORTURE!!!!
Synopsis in…
3…
2…
1…
Synopsis:
Cara and Aelyx only have one day to spend together before he returns to earth and she travels to Aelyx's home planet, L'eihr. Homesick and worried about the upcoming year apart, Cara is desperate to make these final hours count. Worst of all, Cara is missing Christmas, stuck on board an alien spaceship. When Aelyx learns that Cara is forgoing her favorite holiday, he tries to recreate Christmas in space by researching traditional earth customs…but a few things get lost in translation.
My review on April 7th, 2015:
I cant't get over how much I love this series. This short story just added even more love that I already have for Cara and Aelyx.
And now she has written a new book set to release on February 2nd, 2016 *sequels*
The cover reveal was just this week and I need to share the excitement with you all! The cover was revealed on YAbookcentral.com website on Thursday (along with an awesome giveaway may I just add).  I cannot even begin to explain my excitement for this new novel, Starflight! Are you ready for the big reveal if you haven't seen it already?
Reveal in…
3…
2…
1…
Ahhhhh! And here it is! Melissa Landers cover for Starflight!!! Can we just take a moment for how insanely beautiful and gorgeous this cover is?
***Image above from yabookcentral.com
Synopsis:
Life in the outer realm is a lawless, dirty, hard existence, and Solara Brooks is hungry for it. Just out of the orphanage, she needs a fresh start in a place where nobody cares about the engine grease beneath her fingernails or the felony tattoos across her knuckles. She's so desperate to reach the realm that she's willing to indenture herself to Doran Spaulding, the rich and popular quarterback who made her life miserable all through high school, in exchange for passage aboard the spaceliner Zenith.
When a twist of fate lands them instead on the Banshee, a vessel of dubious repute, Doran learns he's been framed on Earth for conspiracy. As he pursues a set of mysterious coordinates rumored to hold the key to clearing his name, he and Solara must get past their enmity to work together and evade those out for their arrest. Life on the Banshee may be tumultuous, but as Solara and Doran are forced to question everything they once believed about their world–and each other–the ship becomes home, and the eccentric crew family. But what Solara and Doran discover on the mysterious Planet X has the power to not only alter their lives, but the existence of everyone in the universe…
I am so incredibly excited for the release of this novel an I hope you're just as excited as I am!
Now that you know a little about the books maybe you'd like to meet the author?
Well…not really but I did insert a little blurb from her
website
about her…
Here is a little about the author:
Bio: Melissa Landers is a former teacher who left the classroom to pursue other worlds. A proud sci-fi geek, she isn't afraid to wear her Princess Leia costume in public—just ask her husband and three kids. She lives just outside Cincinnati and writes adult contemporary romance as Macy Beckett.
Leave me a comment below letting me if you've read any of Melissa' books or if you plan on reading them.
Until next time!
-Amanda
**All image's unless started otherwise are from Goodreads