Hello there! Today I'm going to be telling you about all the books that I plan to be reviewing in the next few months! Let's get started!
First I'm going to tell about some ebooks that I'll be reviewing and what they are about! These will be listed in no particular order!
1. Trespassers by Todd Wynn and Tim Wynn
Publication date: 2014 
Synopsis:
When four alien visitors arrive on Earth and disappear into the cornfields of Indiana, it is Stewart Faulkner's job to find them. Who they are, where they're headed, and what's important enough to make them jump from a moving spaceship are all questions that Stewart must uncover. And he will have to do it all while
1) training a new team member named Mindy—who is developing a crush on him;
2) flying under the radar of his boss to make sure he's not removed from the case; and
3) staying one step ahead of a government agent named Karl Bruner, who is determined to expose the presence of aliens on Earth.
Find Trespassers on Goodreads!
Find the Author on their website!
2. Nobody's Goddess by Amy McNulty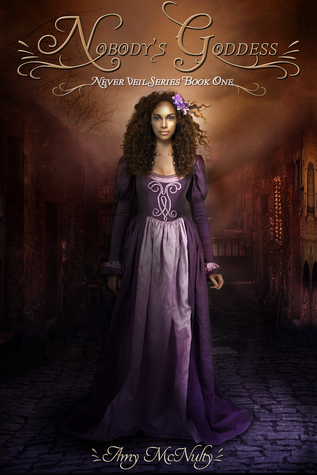 Publication date: April 21st, 2015
Synopsis:
In a village of masked men, magic compels each man to love only one woman and to follow the commands of his "goddess" without question. A woman may reject the only man who will love her if she pleases, but she will be alone forever. And a man must stay masked until his goddess returns his love—and if she can't or won't, he remains masked forever.
Seventeen-year-old Noll isn't in the mood to celebrate. Her childhood friends have paired off and her closest companion, Jurij, found his goddess in Noll's own sister. Desperate to find a way to break this ancient spell, Noll instead discovers why no man has ever chosen her.
Thus begins a dangerous game between the choice of woman versus the magic of man. And the stakes are no less than freedom and happiness, life and death—and neither is willing to lose.
Find Nobody's Goddess on Goodreads!
Find the author on their website!
3. The Artisans by Julie Reece
Publication date: May 19th, 2015
Synopsis:
They say death can be beautiful. But after the death of her mother, seventeen-year-old Raven Weathersby gives up her dream of becoming a fashion designer, barely surviving life in the South Carolina lowlands.
To make ends meet, Raven works after school as a seamstress creating stunning works of fashion that often rival the great names of the day.
Instead of making things easier on the high school senior, her stepdad's drinking leads to a run in with the highly reclusive heir to the Maddox family fortune, Gideon Maddox.
But Raven's stepdad's drying out and in no condition to attend the meeting with Maddox. So Raven volunteers to take his place and offers to repay the debt in order to keep the only father she's ever known out of jail, or worse.
Gideon Maddox agrees, outlining an outrageous demand: Raven must live in his home for a year while she designs for Maddox Industries' clothing line, signing over her creative rights.
Her handsome young captor is arrogant and infuriating to the nth degree, and Raven can't imagine working for him, let alone sharing the same space for more than five minutes.
But nothing is ever as it seems. Is Gideon Maddox the monster the world believes him to be? And can he stand to let the young seamstress see him as he really is?
Find The Artisans on Goodreads!
Find the the author on their website!
4. Vessel by Lisa T. Cresswell
Publication date: May 26th, 2015
Synopsis: The sun exploded on April 18, 2112. It exploded in a Class X solar storm the likes of which humankind had never seen.
They had nineteen minutes.
Nineteen minutes until the geomagnetic wave washed over the Earth, frying every electrical device created by humans, blacking out entire continents, every satellite in their sky.
Nineteen minutes to say goodbye to the world they knew, forever, and to prepare for a new Earth, a new Sun.
Generations after solar storms have destroyed nearly all human technology on Earth and humans have reverted to a middle ages like existence, all knowledge of the remaining technology is kept hidden by a privileged few called the Reticents and books are burned as heresy.
Alana, a disfigured slave girl, and Recks, a traveling minstrel and sometimes-thief, join forces to bring knowledge and books back to the human race. But when Alana is chosen against her will to be the Vessel, the living repository for all human knowledge, she must find the strength to be what the world needs.
Find Vessel on Goodreads!
Find the author on their website!
5. The Zeuorian Awakening by Cindy Zablockis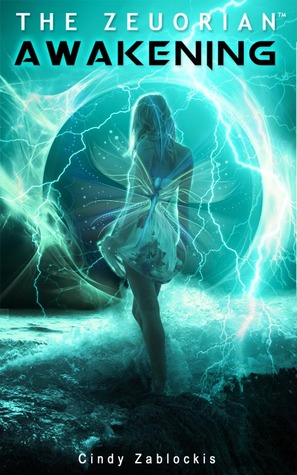 Publication date: March 3rd, 2015
Synopsis:
Lexi's no ordinary teenager. She was born with the ability to read minds and sense danger. But on her seventeenth birthday, she realized how different she was after transforming, literally that is. Now she's developing powers stronger than a superhero. But she's no superhero.
Far from it.
She has no control over her abilities and causes accidents every time she's nervous or upset, which being a teenager is hard to avoid, especially when the most popular boys in school are fighting to be with her.
If that isn't bad enough, a stranger is following her. She doesn't know who he is or what he wants, yet he knows all about her abilities and that she's developing more. And . . . he's her only hope of understanding why she's changing and others are after her. What she learns will send her life into overdrive.
A romantic and suspenseful story with several unexpected twists, The Zeuorian captures the struggle between wanting to survive and longing to know the truth even if it means risking death.
Find The Zeuorian Awakening on Goodreads!
Find the author on their website!
6. Insight by Jamie Magee
Publication date: June 15th, 2014
Synopsis:
They are two souls made of one, divided by time, and reunited within their dreams. Worlds stand between them now, but fate is their guiding light, one glance bound them, one touch empowered them. Now, they have no choice but to finish the war they started lifetimes before…or they will lose it all.
Willow Haywood has always been trapped between the worlds of the Light and the Dark. Her waking hours are plagued by her ability to feel the emotions of those around her. No matter how inward she draws, she cannot shut out the feelings of others. Sometimes she will see images – echoes of other people and places – that she can enter to influence the emotions of people she has never met.
By night, Willow experiences her only escape from this terrible insight – entering into the world of dreams. Most of these dreams are shared in blissful silence with a stunning blue-eyed boy. But every new moon she lives through something much darker: a horrific nightmare shared by another mysterious boy who is always shrouded by shadows.
One night, this shadowy figure invades her dreams outside of his appointed time. In this new nightmare, Willow is marked; a mark which follows her into the waking world and sets her on a momentous path through light and darkness, through fragmented myth and half-truths, through past lives and disturbing family secrets, all in the face of the ever-dominant Zodiac. What she finds will endanger the lives of those closest to her and will force her to make a decision that will change her world forever.
Find Insight on Goodreads!
Find the author on their website!
7. Chimera by Vaun Murphrey
Publication date: March 10th, 2015
Synopsis:
If you witnessed your parents killed at age five for reasons unknown only to endure eight years of isolation in captivity, what would you do with your life when you were suddenly rescued by family you never knew you had? What if you yourself were even more than you seemed? The universe can be both a terrible and wonderful place to live if you have the courage to explore it. Enter an alternate reality of civil war, secrets, murders and betrayals that transcends space and time with CHIMERA, Book One of the Weaver Series.
Find Chimera on Goodreads!
Find the author on their website!
8. Spring Tide by K. Dicke
Publication date: March 15th 2015
Synopsis:
"She's here. I feel her."
"Who's here?"
"The one who's mine."
To the dismay of her family, Kris Edwards postpones college, despite a full-ride scholarship, and moves to the beach. She has a crazy feeling there's something she has to find to figure out her life, and it's at the coast.
She's pretty sure that something isn't Jericho, the too-hot surfer with amazing blue eyes. He's way out of her league. And is that an actual electric spark that happens every time she touches him? She doesn't have time for him—not with two jobs, a boozer neighbor, and her best friend's stalker on the scene. Not to mention the weird black mist over the water or outside her workplace that no one seems to notice but her.
But there's more to Jericho than Kris realizes, and she can't blow him off so easily. He's in tune with the magic of the tides, and only he knows of the evil that's washed ashore and is coming for her. The closer Kris gets to him the more danger she's in. But he can't let her be—he's been waiting years for her.
With Jericho by her side, Kris might find what she's looking for. Or she might lose everything.
Find Spring Tide on Goodreads!
Find the author on their website!
Now on to my physical copies!
9. The Art of Love by Kitsy Clare
Publication date: February 15th, 2015
Synopsis:
In the novella Model Position Sienna finishes art school and longs to make her painting debut. Forging the right connections is critical in her competitive industry. Handsome classmate Dave is heir to the hippest gallery in Manhattan and he could be her much needed entree. Then, there's Erik, the drawing muse and struggling artist whose nude modeling pays for his paints. Sienna and Erik have an unexpected connection, but his hot body attracts everyone in the class. Who will she pick and will she ever get that break she needs?
In Private Internship Sienna lands an internship with Casper "Caz" Mason, a famous sculptor worth millions. With her boyfriend working overseas for a year the job becomes all consuming. Caz puts Sienna through a series of strange yet alluring games and tests. She knows she should get away. But by the time Sienna sneaks into his locked storage room and unravels his terrifying secret, she's fallen way too hard.
Find The Art of Love on Goodreads!
Find the author on their website!
10. Life Unaware by Cole Gibson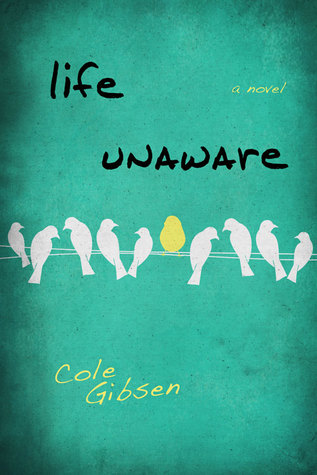 Publication date: April 28th, 2015
Synopsis:
Regan Flay has been talking about you.
Regan Flay is on the cusp of achieving her control-freak mother's "plan" for high school success―cheerleading, student council, the Honor Society—until her life gets turned horribly, horribly upside down. Every bitchy text. Every bitchy email. Every lie, manipulation, and insult she's ever said have been printed out and taped to all the lockers in school.
Now Regan has gone from popular princess to total pariah.
The only person who even speaks to her is her former best friend's hot but socially miscreant brother, Nolan Letner. Nolan thinks he knows what Regan's going through, but what nobody knows is that Regan isn't really Little Miss Perfect. In fact, she's barely holding it together under her mom's pressure. But the consequences of Regan's fall from grace are only just beginning. Once the chain reaction starts, no one will remain untouched…
Especially Regan Flay.
Find Life Unaware on Goodreads!
Find the author on their website!
And that's it! Let me know what books you'd like to see me review first or which books interest you most!
Until next time!
-Amanda
***All photos are from goodreads