When I first heard about this book I never even imagined how much I would come to love it as much as I do. This book is Bound by Duty by Stormy Smith as pictured below. The cover is gorgeous and fits the content of the book perfectly.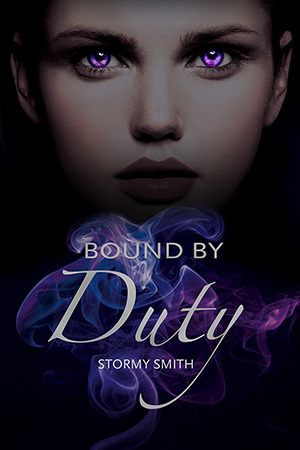 Here is the synopsis of Bond by Duty directly from good old goodreads:
Amelia grew up in a world of half-truths. She knows she's an Elder but has no idea what that means. Her father reminds her daily that she must maintain control but he refuses to explain why. Even worse, she's betrothed to the prince of the Immortals and she doesn't even know his name.
Finally breaking free to live a few normal years at a community college, the last thing Amelia expects is to find her best friend in a cheeky Southern girl and to fall for a self-assured human who sees her for who she is and not what she'll be.
As she learns more about herself, Amelia realizes the line between love and duty is a thin one. As her power continues to increase exponentially and her questions are slowly answered, Amelia must make the ultimate choice. The question is, will her head or her heart win the battle?
Already from this synopsis I know it's going to be an interesting read. Now what kind of rating did I give said book?
My rating: 5/5 stars
My Review:
I'd like to start off by saying when you start reading this book don't get discouraged if you don't understand what's going on. I was in that exact same predicament. However, the more I read the better I began to understand the book and Amelia as a character. I loved the fact that I was just as confused as she was. It made me want to read more and uncover more about her and about her power and just how truly special she is.
To better understand her power without giving to much away I'll give you just a brief summary of her abilities. Amelia is an Elder and the only female one. The color of Amelia's power is purple (hence why the cover is competently perfect). The color distinction of her power is one of the many things that distinguishes her as an elder and makes her unique. Amelia is in constant battle with herself and her ability to control her building power that continues to grow everyday. Ameila isn't that super whiny character that needs a relationship to be happy (though it is nice). She knows where her duty lies and she uses those abilities to fight and not run from her problems.
Next, Amelia has her core group is what I'm going to call it. This core group consists of her older brother Cole (who is also a Elder), her roommate Bethany (or "B" as Amelia often calls her), Micah, our "self assured human" Aiden, and ever so lovable pooch, Charlie (How could I not include him?).
One thing I absolutely loved was Cole's undying love for Amelia, even when they got mad at each other. Her brother never gave up on her or walked away when things got difficult or too much to handle. He could have just walked away and never looked back, but he didn't. If I were to ever have a sibling I would want one like Cole, who was willing to do anything to help his little sister when she needed him most.
I just need to talk about Amelia's roommate. I can't even begin to explain how much I loved their friendship. They are literally friendship goals. They had moments when I would literally laugh out loud and couldn't help but smile because Bethany would remind me over some of my friends. However, towards the end I was little annoyed with Bethany, but I still need to read the next book so hopefully I can go back to loving our little southern belle.
On the opposite side of spectrum we have Micah, who I have more mixed emotions about than anybody. I'm not quite sure I like him or trust him given the circumstances. I guess we'll have to wait and see if I can find out in the next book.
And then of course there is Aiden. Aiden is the perfect mix of bad boy and a romantic that every girl would just swoon over.
And then of course we have the classic love triangle that I actually didn't mind. I loved the way that it was executed.
All in Bound by Duty is full of romance, magic, plot twists and suspense that will leave you wanting more.
I hope there wasn't too many spoilers! I'm still new to this who reviewing thing!
I'll also be going to Stormy's book signing next Saturday, April 25th at Burlington by the Book in Burlington Iowa.
It's from 11 a.m. – 1 p.m and I can't wait to have my book signed by this wonderful author!
To learn more about Stormy and her books visit her website: here!
I'll "see" you all in my next post!
***Photo from goodreads