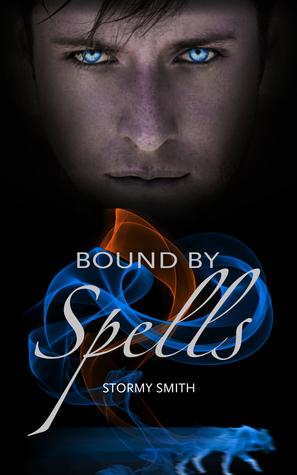 Author: Stormy Smith
Genre: YA/Fantasy/Paranormal
Pages: 448
Rating: 5/5 Stars
---
My Thoughts:
Well, that was a whirlwind of emotions. *insert crying emoji here*
I just finished Bound by Spells, which is the second installment in the Bound Series. A book hangover is currently in effect. Overall I really loved Bound by Spells. It was a great addition to Bound by Duty. Though it would be a bit slow for some people I thought it was a perfect pace for this complex world. Once again I feel like I'm right along with the characters learning as they are learning. These characters developed a lot from the first book, especially Aiden. He really grew to become a great leader. Amelia also grew as a character becoming far stronger than I even imagined. I really liked that this was told through both Amelia's and Aiden's point of views. It made it a lot easier to understand the world. I think it is going to set up for something big in the next installment, Bound by Prophesy, which comes out sometime this year. I am definitely looking forward to the next book. Well done Stormy, well done.
---
Goodreads Summary: 
Aidan Montgomery hadn't been prepared for Amelia Bradbury to walk in and then out of his life. He also hadn't expected to find the powerful magic hidden deep within him for the last nineteen years, but he's embracing it — finding more control and more answers every day. Now, with the help of Amelia's best friend, Bethany, Aidan is on a quest to understand his destiny and find Amelia.
Amelia decided to stand by her duty, which meant walking away from her first chance at love. Trapped in Cresthaven at the Queen's mercy, she spends her days with Micah — an ally she still holds at arm's length — struggling to manage her heartbreak while keeping her mind focused on the task at hand. As she continues to unlock the secrets of the Keeper power, Queen Julia's true motives reveal themselves, forcing Amelia to decide, yet again, how much she's willing to sacrifice.
Will Aidan get to Amelia before it's too late, or will the very power that sustains them keep them apart?