So I was given the incredible privilege to join an ARC tour! If you don't know what an ARC tour is it is basically a tour where the author mails out a book and it circulates through readers who leave notes in the book for the author. This was the first time I had ever done this and it was so fun to do! (Especially since I could never bring myself to write in my own books!).
The book that I read was Sweet Madness, which was co-written by Trisha Leaver and Lindsey Currie.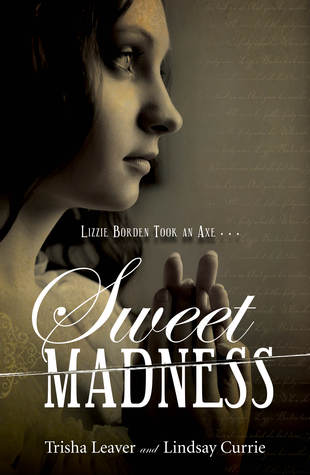 Author: Trisha Leaver and Linsay Currie
Genre: YA/Historical/Retelling
Format: Paperpack
Pages 206
Expected Release date: September 18th, 2015
---
My Review: 
This book was such an eerie read! It was suspenseful and gruesome! The detail was impeccable. This was the first book I've read by Lindsay Currie and Trisha Leaver and I was not disappointed! The amount of thought that went into this story was incredible! (Especially since this was based on a true story! Crazy!) I felt so many emotions while reading this: annoyed, happy, sad, cheeped out, uneasy, grossed out, and so fourth. I loved that it was told by Bridget. It was great to see it from an outside point of view, but I would have loved to see it from Lizzie Borden or Andrew's POV's. I think it would be so interesting. I went in blind to this book and I'm so glad I did because I was completely blown away at the end! If you want an eerie read with some history thrown in that's easy to get through this is perfect for you!
---
Goodreads Summary: 
Seventeen-year-old Bridget Sullivan is alone in Fall River, a city that sees Irish immigrants as nothing more than a drunken drain on society. To make matters worse, she's taken employment with the city's most peculiar and gossip-laden family—the Bordens. But Bridget can't afford to be picky—the pay surpasses any other job Bridget could ever secure and she desperately needs the money to buy her little sister, Cara, passage to the states. It doesn't hurt that the job location is also close to her beau, Liam. As she enters the disturbing inner workings of the Borden household, Bridget clings to these advantages.
However, what seemed like a straightforward situation soon turns into one that is untenable. Of course Bridget has heard the gossip around town about the Bordens, but what she encounters is far more unsettling. The erratic, paranoid behavior of Mr. Borden, the fearful silence of his wife, and worse still…the nightly whisperings Bridget hears that seem to come from the walls themselves.
The unexpected bright spot of the position is that Lizzie Borden is so friendly. At first, Bridget is surprised at how Lizzie seems to look out for her, how she takes a strong interest in Bridget's life. Over time, a friendship grows between them. But when Mr. Borden's behavior goes from paranoid to cruel, and the eerie occurrences in the house seem to be building momentum, Bridget makes the tough decision that she must leave the house—even if it means leaving behind Lizzie, her closest friend, alone with the madness. Something she swore she would not do.
But when Bridget makes a horrifying discovery in the home, all that she thought she knew about the Bordens is called into question…including if Lizzie is dangerous. And the choice she must make about Lizzie's character could mean Bridget's life or death.
SWEET MADNESS is a retelling of the infamous Borden murders from the point of view of Lizzie's Irish maid, Bridget Sullivan.
---
Want to win this book? 
Enter the Goodreads giveaway hosted by the author!
enter here!
This giveaway is ends on June 5th!
---
About the authors:
Lindsay Currie
Bio via Goodreads:
Bio via goodreads:
Trisha Leaver resides on Cape Cod with her husband, three children, and one rather excitable black lab. Her YA Horror novel CREED is coming in Fall of 2014 from Flux. Her YA Contemporary THE SECRETS WE KEEP coming in the Winter of 2015 from FSG/Macmillan
Social:
---
And since were on the subject of authors I've also stared one of Trisha Leaver's books called The Secrets we keep! I love the concept and can't wait to see where this book goes! Here's a little about the book: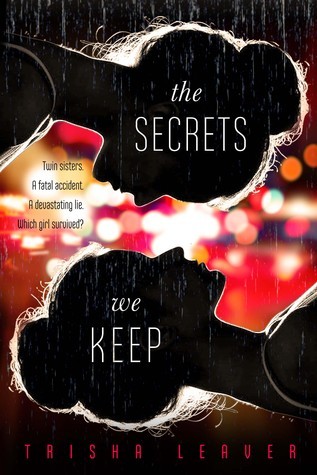 Author: Trisha Leaver
Genre: YA/Contemporary
Format: Paperback
Pages: 294
Goodreads Summary: 
A girl takes over her twin sister's identity in this emotionally charged page-turner about the complicated bond between sisters.
Ella and Maddy Lawton are identical twins. Ella has spent her high school years living in popular Maddy's shadows, but she has never been envious of Maddy. In fact, she's chosen the quiet, safe confines of her sketchbook over the constant battle for attention that has defined Maddy's world.
When—after a heated argument—Maddy and Ella get into a tragic accident that leaves her sister dead, Ella wakes up in the hospital surrounded by loved ones who believe she is Maddy. Feeling responsible for Maddy's death and everyone's grief, Ella makes a split-second decision to pretend to be Maddy. Soon, Ella realizes that Maddy's life was full of secrets. Caught in a web of lies, Ella is faced with two options—confess her deception or live her sister's life
-Amanda