So last week I realized something…I wasn't using my TBR jar to its full potential. In order to solve this problem I took to the guidance of YouTube. With the help of the internet I have revamped my TBR jar challenge! I know it's almost halfway though 2015, but hey, I still got 7 months so I still got time!
I found this TBR jar challenge on Kat's channel, better known as "katytastic" on the YouTube.
See video here
So I'm really excited for this challenge, because I am like Kat. The normal TBR jar just doesn't work for me. I'm a mood reader as well, so I think this challenge will be a lot more flexible for a reader like me.
---
So here is the challenge: 
-Read a book with 500+ pages
-Reread a favorite book
-Read a 2015 debut novel
-Read a book that someone else picks
-Listen to an audiobook
-Read a book you DNF'd / gave up on
-Read a new-to-you author
-Read a book that is not a novel
-Read/watch a book and its adaptation
-Read an award winning novel
-Read a classic novel
-Read a series finale
---
I'm really hoping that I will be able to stick to this one! I also drew one from the jar today and I got "Read a book you DNF'd / gave up on." I've decided to go with It's kind of a funny story by Ned Vizzini. I got about halfway through this one a few months ago and then just never finished it because I was busy with school. I'm really hoping that I can finish it now since I'm finally done with high school (forever!!!!!!). I was really enjoying it from what I had read and I'm so excited to get back into this one! This also has a pretty good rating on goodreads!  I'll be adding this to my TBR this month!
---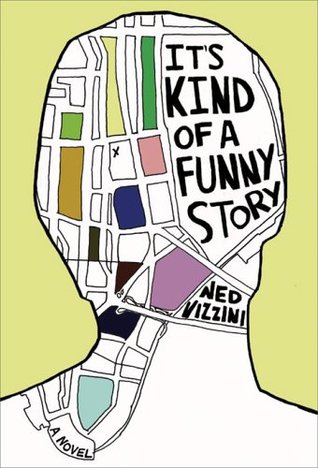 Author: Ned Vizzini
Genre: YA
Pages: 444
Format: Paperback
---
Goodreads Summary: 
Ambitious New York City teenager Craig Gilner is determined to succeed at life – which means getting into the right high school to get into the right job. But once Craig aces his way into Manhattan's Executive Pre-Professional High School, the pressure becomes unbearable. He stops eating and sleeping until, one night, he nearly kills himself.
Craig's suicidal episode gets him checked into a mental hospital, where his new neighbors include a transsexual sex addict, a girl who has scarred her own face with scissors, and the self-elected President Armelio. There, Craig is finally able to confront the sources of his anxiety.
Ned Vizzini, who himself spent time in a psychiatric hospital, has created a remarkably moving tale about the sometimes unexpected road to happiness.
---
That's it for now!
-Amanda