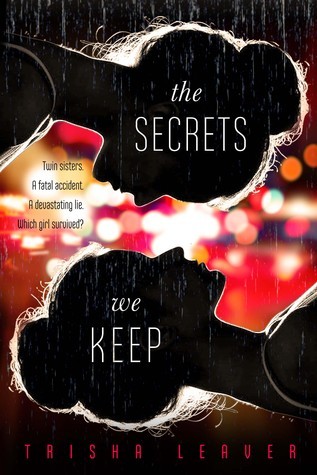 Author: Trisha Leaver
Genre: YA
Pages: 294
Format: Paperpack
Rating: 5/5 Stars
---
Goodreads Summary: 
A girl takes over her twin sister's identity in this emotionally charged page-turner about the complicated bond between sisters.
Ella and Maddy Lawton are identical twins. Ella has spent her high school years living in popular Maddy's shadows, but she has never been envious of Maddy. In fact, she's chosen the quiet, safe confines of her sketchbook over the constant battle for attention that has defined Maddy's world.
When—after a heated argument—Maddy and Ella get into a tragic accident that leaves her sister dead, Ella wakes up in the hospital surrounded by loved ones who believe she is Maddy. Feeling responsible for Maddy's death and everyone's grief, Ella makes a split-second decision to pretend to be Maddy. Soon, Ella realizes that Maddy's life was full of secrets. Caught in a web of lies, Ella is faced with two options—confess her deception or live her sister's life.
---
My Thoughts: 
Wow. Just wow. I really loved this book. The concept from the start had me hooked. Definitely something unique and different from my usual read. It was such an incredible, fast paced read. I loved that it just right into the story. This is really the first book that I've read about a set of twins and I was not disappointed. I was hooked from the synopsis. I loved the development of Ella. She really discovered who she was by pretending to be Maddy. As terrible as it was for Ella to loose her sister I think that pretending to be her really helped her find her voice. I really found myself plowing through this novel. It was so hard to put down. It was heart wrenching, but in the end I found myself smiling, full of happy tears.It is a great stand alone novel that will leave you on the edge of your seat. I would highly recommend it!